ME 407

Mechanical Engineering Design Course
International Virtual Design Studio 1999-2000 IVDS Project
(Fall 1999 Project B)

Our group composed of three people from five mechanical engineering students. Three of them from Middle East Technical University Ankara- TURKEY and two of them from Queen's University in CANADA. Our names are as follows:
In order to see our pictures please click on the thumbs below:
.
Information about our Project
Definition:
A vehicle that moves on rails, fills up a glass of water at the start, carries and discharges it on the finish location.
The specifications of the rails are as follows:

The dimensions of the rail path are as follows: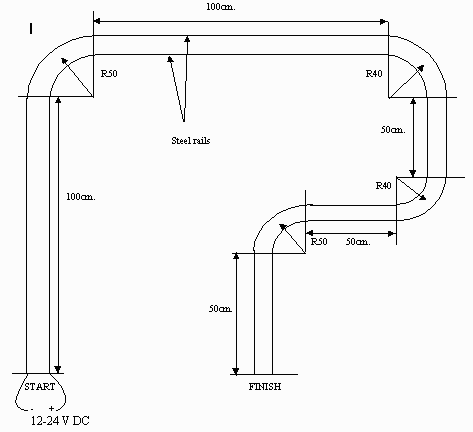 ***Drawings are not scaled.
At the finish line, a container will be placed as it is shown in the figure to collect the discharged water.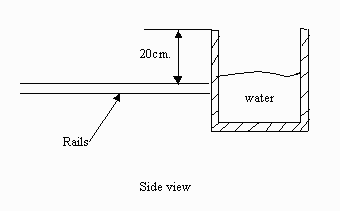 Design Criteria:
Travel time should be minimised.
Amount of water transported after 5 cycles should be maximised. (The minimum requirement is 1 full glass)
Weight of the vehicle should be minimised.
Cost should be minimised.
Prediction satisfaction (A measure of how close the predicted performances to the test results)
Limitations and Requirements:
12-24 V DC voltage will be available at the rails all along the path.
Maximum allowed time for 5 cycles is 5 minutes.
Minimum amount of total discharged water after 5 trips of the vehicle is 1 full glass.
Automatic water filling unit will be provided at the start line as a part of the set-up.
The discharge mechanism will be part of the vehicle and should be designed by the team.

Glass Dimensions: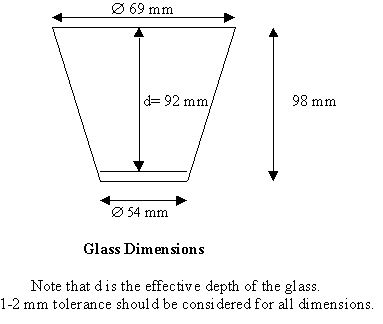 IVDS'99 Project Schedules:
Wednesday September 27 Project Topics Announcement
Friday October 8 Announcement of Group Members
Monday November 22 IVDS Final Report Deadline
Monday January 24 IVDS Prototypes Deadline
Thursday January 27 IVDS Competition Day
Related Links